Birthday Parties for Kids Over 1
When you hire Dale you get: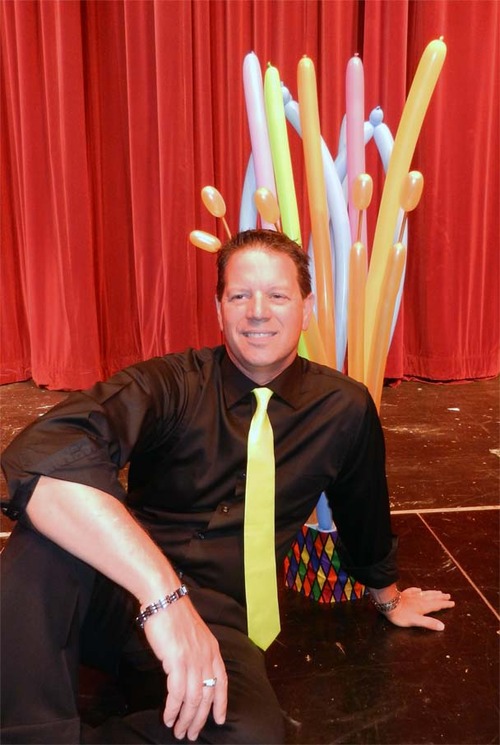 A Veteran Entertainer: Ensures that no unexpected pop will deflate the fun.
A Contract: Making sure nothing is left out, missing or forgotten.
Planning Assistance: Assists you in planning your entertainment and making sure your requirements are met, allowing praise bestowed on you for creating a great party atmosphere
Payment: You can pay by cash or check (as long as they don't bounce – that's my check request).
Deposit:Events under two hours require no deposit.
A Birthday Party is fun when you're attending, but hosting can be overwhelming.
You know your kids will listen, but the neighbor's kid, look out — what a handful. Most parents look for activities to entertain the kids. It can be a simple game like a hot potato to a craft project.
Other parents will hire a professional balloon entertainer to come and keep the kids entertained at the birthday party, while other parents will spend a small fortune renting out an arcade and letting the kids run wild.
The best entertainment for a child's birthday party
The best birthday parties are the parties that are fun for both the kids and adults. The Disney experience has taught us that a party can be entertaining for any age group.
Hiring the right balloon entertainer ensures guests, no matter what age they are, will have fun, while giving you the time to be the generous hostess. After all, you have more important responsibilities then trying to keep guest occupied.
The benefit of entertainment; makes people talk about your event, especially if the entertainment focuses on both the kids and adults.
Having adults attend the birthday party helps you with kid control, cleaning up, and have extra eyes to watch out for dangerous situations. It can be overwhelming for one parent to control 15 screaming, six and seven-year-old kids.
An unseen benefit, for attending parents, is sharing a memorable experience with their child. Any fears that a child has, their parents are there to comfort or correct their behavior.

Make the birthday party fun for everyone young and old; hire entertainment that will be memorable and entertaining to everyone attending the party.
"Dale – I am so thankful that you were a part of my daughter's 2nd birthday celebration. Your balloon creations are one-of-a-kind. I've never seen so many unique designs. This combined with your great personality puts you over the top". – Susan Ryder
"You are very entertaining to children of all ages and adults as well. The children loved you and my guests expressed to me how much they enjoyed watching you in action. You gave that added touch to really make my party a GREAT and memorable party. Thank you for making my occasion extra special" – Angela Reis
Provide a location, time, and date and Dale will send you a contract confirming the event booked.
Dale arrives 10-15 minutes before the designated start time to ensure your party starts on-time! Booking
When you book your event, Dale will confirm the time and location. Once this has been done, Dale will add your event to his show calendar and you will receive an email inviting you to your own event. This tells you that Dale has recorded your event into his books and has started the contract process. Please review the calendar entry and look for a contract to be emailed to you. The contract will allow for an electronic signature which requires no scanning, just a quick signature and send.