Each year parents are looking to make their child's 1st birthday party unique. They work hard at planning a theme that is perfect your their child.  Hours spent searching through Pinterest, looking at pictures trying to make everything perfect for your child's 1st birthday. It all about the details and that includes the kid's beverage cooler.
Kid's Beverage Cooler Ideas
While balloon twisting at a 1st birthday party, I came across a simple, practical, and straightforward way to distribute the children's drinks. 
I've seen coolers, tubs, and drinks display on the table, but at this 1st birthday party, the mom used an infant pool to hold the kid's drinks.  Little waters, fruit juices, and small soda cans nestled together in an infant's pool filled with ice. 
This unique ice bucket was easy for kids to reach their drinks. Held several bags of ice, and moms did hot have to worry about kid's fingers getting smashed in the ice chest.
The small inflatable pool cooler was a hit with the kids.  They could dig around for a drink and play with the ice.
After seeing the infant pool as a cooler, I did do a little research on pool coolers and found Mike's Hard Lemonade had the best design.  I also found a DIY fountain pool cooler.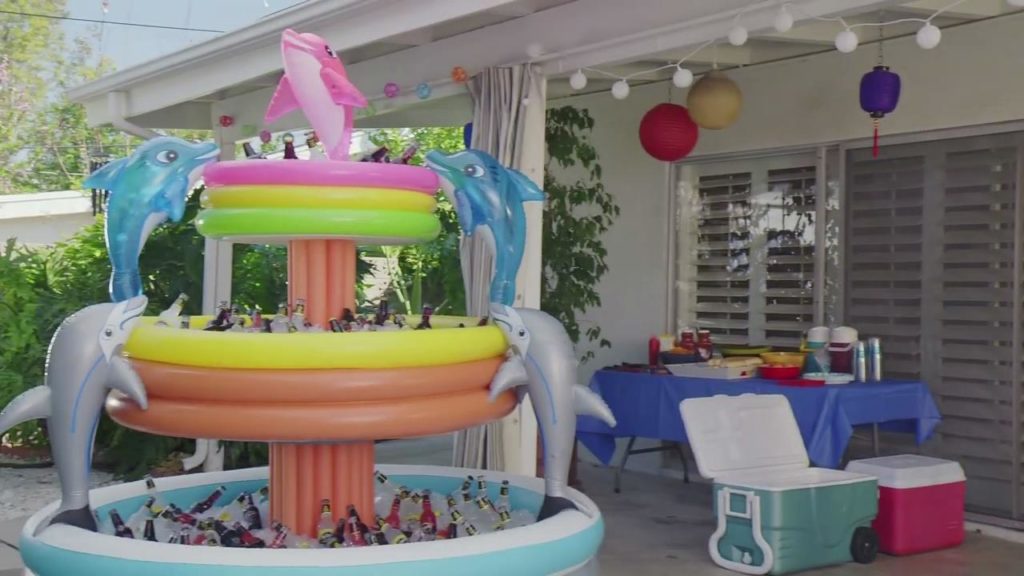 If you are looking to make your child's 1st birthday party different, go for it.  It just takes time, research, and a little crafting to make the coolest party decorations that will have your guest talking and remembering your child's 1st birthday party for years to come.
Summary
Article Name
Now You Can These Awesome Kid's Beverage Cooler
Description
A brief article looking at how infante pools can be used as a beverage cooler for a theme party.
Author
Publisher Name
1st Birthday Party Specialist
Publisher Logo