The first question that my wife and I faced when planning our sons 1st birthday party was, do we have it at a restaurant or home? You're going to be asking your spouse that same question, which leads you to read this blog post.
We chose a restaurant for the 1st birthday party and all the remaining birthdays have been at home. You might be like us and feel the first birthday party is unique. 
Plus we avoided:
cleaning a messy house
eliminate preparing food
and downsizing the guest list, because our home could not accommodate everyone on the list.
Here are three birthday party venues in Tinley Park to consider.
Four criteria must be met to be on this list are:
Located in Tinley Park
Private party room
Full restaurant
Have a good pizza
Lou Malnati's Pizza
9501 W. 171st Street, Tinley Park IL 60487
(847) 504-0433

Chicago is famous for its deep-dish pizza and Lou Malnati's pizza will not let you down. Lou Malnati's of Tinley Park features a private party room, full bar, pizza, and a full menu.
Over the years, I have had the opportunity to entertain at several Lou Malnati's. In my experience, the parties run smoothly, the wait staff is professional, and their restaurants typically have ample parking for your guest. The Tinley Park location has a large parking area, which is useful when you are transporting all the 1st birthday party gifts to the car.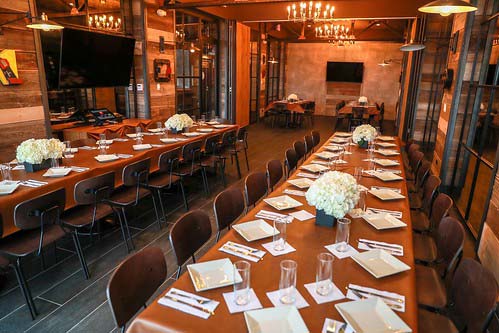 Lou Malnati's can accommodate 22 guests for the small 1st birthday party, 50 guests in the large room and a maximum of 80 guests if you combine both places.
* Lou Malnati's welcomes store or bakery bought cakes or cupcakes; no other outside food allowed.
* No glitter or confetti on tables or hanging of decoration on walls, ceiling or fixtures.
---
DURBINS RESTAURANT & LOUNGE
17265 OAK PARK AVE, TINLEY PARK, IL 60477
(708) 429-1000
Durbin's is a local restaurant that caters to the Tinley Park community. I have had the pleasure of entertaining at this location several times, and this is a lovely room if you are looking for privacy. You have a private entrance that leads directly to the party room, no wondering through a restaurant. Linen lined table cloths gives that clean, elegant banquet hall feel.
One drawback is a small parking lot, as the location is downtown, Tinley Park. Your guests will find plenty of parking behind the building and along the street, but close parking is limited.
Durbin's offers a full catering menu, family style or select from three pizza options of thin, thick or regular crust.
Is the guest list approaching 100 people, then combine two dining rooms and accommodate 125 people. Planning a smaller 1st birthday party then adjust the room accordingly to 20, 50 or 80 guest.
If you want to highlight your child's 1st year with a video montage, Durbin's can accommodate you with a video projector. For those sports-loving families that cannot miss the critical game, Durbin's has a flat screen TV in the room.
* Durbin's welcomes store or bakery bought cakes or cupcakes; no other outside food allowed.
* No glitter or confetti on tables or hanging of decoration on walls, ceiling or fixtures.
---
ED & JOES PIZZA
17332 Oak Park Ave # 1, Tinley Park, IL 60477
(708) 532-3051
A fixture in Tinley Park since 1961, Ed & Joe's Pizza offers a private room for your child's 1st birthday party. This local restaurant has had 1,000's of parties and can cater to your party needs.
Ed & Joe's Pizza has a relaxing atmosphere with their family style restaurant. The entrance to their private room is located in the middle of the restaurant so guest will have to go up a couple of stairs to access the room. Grandparents might find this challenging to navigate.
The room capacity is twenty-six which is perfect for an intimate 1st birthday party.
* Ed & Joe's Pizza welcomes store or bakery bought cakes or cupcakes; no other outside food allowed.
* No glitter or confetti on tables.
* Hanging of decoration on walls, ceiling or fixtures needs to be approved by management.
---
Restaurant Venues Amenities
Here is a list is things you need to consider when planning your child's 1st birthday party.
How far do I have to park the car? You have decorations, gifts, and a family to transport.
How can I clean up the birthday child after getting the smash cake frosting in their hair? Bathroom amenities become essential when the birthday child is covered in chocolate frosting.
How will you decorate the room? Tacking the happy birthday banner you just bought to the wall is not allowed, now what?
How will you show the one-year celebration video which you created?
Things To Consider
Lou Malnati's
Pizzeria
Ed & Joes
Pizza
Durbin's
Restaurant & Lounge
Parking Lot Size
Large lot
Small Lot
Small Lot/
Adjacent Parking
Private Entrance
Yes
Bar
Yes
Yes
Yes
High Chair
Yes
Yes
Yes
Bathroom – Changing Table
Yes
Yes
Yes
Bathroom – Hand Dryer or Paper Towels
Hand Dryer
Towels
Hand Dryer
Bathroom Counter Space
Average
Small
Average
Decoration on Walls
No
Yes
No
Kids Menu
Yes
Yes
Yes
Outside food Cake/Cupcakes
Yes
Yes
Yes
Dedicated Party Hostess / Waiter
Yes
Yes
Yes
Google Cost Review
$$
$$
$$
Conclusion:
Each restaurant has a unique feel, and the food quality is excellent at all three locations. It comes down to your party size and your style. Large groups, I would look closely at Durbin's or Lou Malnati's Pizzeria because they can handle all your guest parking. Ed & Joe's is a quant family-style, while Lou Malnati's is a more modern clean line restaurant. If you are for a formal look, then I would suggest Durbin's as you will have the look and feel of a banquet hall.